The Revolutionary NMN Octa 3000TM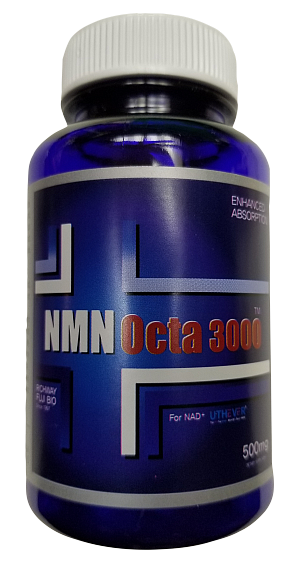 The NMN Octa 3000TM supplement comes out of anti-aging research. We are excited to present this product because it changes lives. There are many claims about supplements. So many products out there have limited effect and are sold mostly on hype. Our testing has shown that people will be different in how they respond to the NMN Octa 3000TM. Some people may only notice subtle changes, such as a small increase in energy or focus, but others, like ourselves, may notice big differences. We encourage you to try this product. We offer a money-back guarantee. This product may change your life.
What it does
Various scientific studies have demonstrated the value of NMN. Here is a brief listing of the findings.
Increases cellular energy
Increases cognitive function
Helps weight loss
Improves learning and memory
Protects the retina
Facilitates blood flow and heart health
Reduces inflammation
Extends cellular life
Helps DNA repair
Product Information
Supplement Facts
Serving Size : 2 Capsules
Servings Per Container : 30
Amount Per Serving
NMN Nicotinamide Mononucleotide
250 mg
Pterostilbene
25 mg
L-Arginine
250 mg
Octacosanol
187 mg
Soy isoflavone
70 mg
Daily Value not established
Other ingredients include:
Silk Peptide
Vitamin A mixture
Vitamin B1 hydrochloride
Vitamin B2
Vitamin B6 hydrochloride
Vitamin D3 Mixture
Zinc Oxide
Nicotinic acid amide
Calcium Pantothenate